About KUBS
Dean's Greetings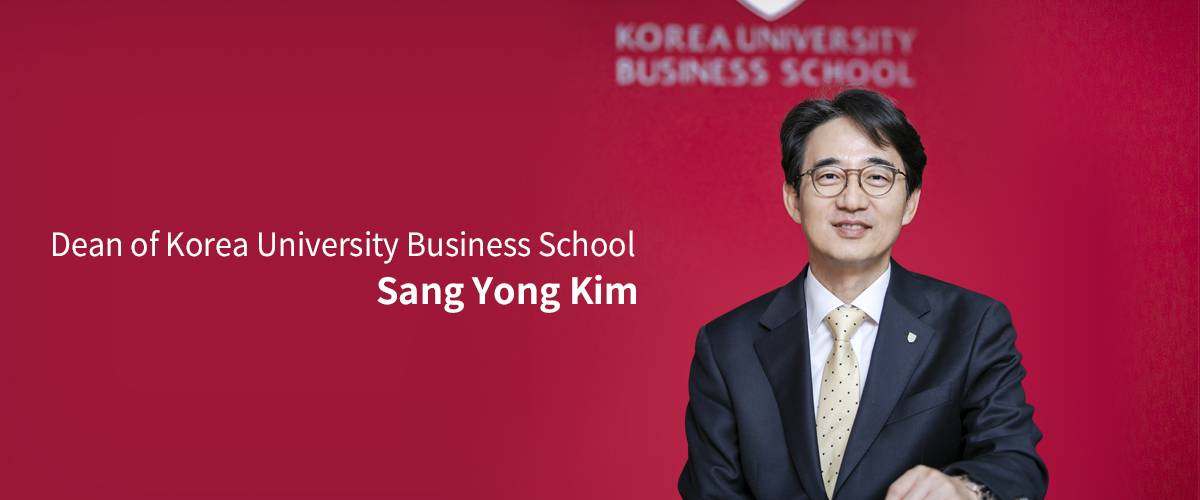 Korea University Business School is the one and only department that has continued the history of 115 years, along with Korea University.
Korea University Business School has been leading the Korean business administration education, starting from teaching commercial science in the department of plutology in 1905, and is one of the most important departments with the longest history at Korea University. After being renamed as 'Department of Commercial Science' in 1910 and as 'Department of Commercial Affairs' in 1922, the first 'Business School' was established in 1955, and the first MBA was established in 1963. Korea University Business School is indeed the pioneer which introduced the western modern business administration education in Korea. Furthermore, Korea University Business School marked a milestone in the history of university architecture by building world-class school buildings, including the Business School Main Hall, the first building in Korea dedicated to the single department, the LG-POSCO building, which is funded entirely by donation for the first time in Korea, and the Hyundai Motor Hall, which was established with the largest donation of 3,600 individuals and organizations in the history of university architecture.
Korea University is building a new future, with global leaders and cutting-edge research.
Korea University has a clear vision – "Business for Society: Inspiring Next Leaders" and "World-Class Knowledge Hub in Business". In 2021, KUBS will keep creating new values from cutting-edge studies over changing trends and generation. Based on the fundamentals in business studies, new leaders will grow to take the head of a new future that we are preparing for. We have a strong belief that members from KUBS will take that role. Although KUBS is maintaining the undisputed rank #1 business school in Korea, we are not satisfied with this result. It is promising that before 2030, KUBS will become the Global Top 30 & Asia No. 1 business school and we believe we are almost there.
Members of Korea University Business School pursue Common Good.
Alumni of Korea University Business School have continuously contributed not only to the development of corporations and economy, but also to the development of society, the nation, and the world. We have maintained the spirit of 'Gong seon sa hoo', which prioritizes public affairs instead of remaining in the development of individuals. In the DNA of Korea University Business School, there is a spirit of knowing how to think about others, collaborating as a team, and creating a common good for each and everyone. This spirit is our strength that has been formed throughout our long history. We will continue to take over the good traditions, heritage, and spirit formed throughout the history of Korea University Business School and endeavor to contribute to the good life of mankind living together.
We Pursue Changes, but with Noble-mindness in Business World.
We are always searching ways to keep up with the new trends in business environment. Being responsive to the vastly-changing global business network is the thing that we should focus on. On the other hand, we also try to maintain the dignity as a traditional University who has great legacy and historic stories. KUBS has launched three new curriculums in 2020: Business Analytics, Entrepreneurial Mindset, Social Value and Sustainable Management. On the infrastructure perspective in addition, CDTB, an open-connected platform that leads the digital transformation era, has created a collaborative network between students, professors and experts in various categories of industries. Also, we also leaded social value forums to pick out new talents who can understand and pursue social values in business. And through the KUBS Startup Station, we continue to support students' creative activities and business operations.
We will compete with the world's leading business schools beyond the 'first' and 'best' in Korea.
Korea University Business School has ranked 49th worldwide for the subject of Business and Management, and ranked 51st for the subject of Accounting and Finance in 'The QS (Quacquarelli Symmonds) 2020 World University Rankings' in the United Kingdom, making its fame as the No. 1 private university in Korea. In addition, the Executive MBA ranked 19th worldwide in the "2020 Top 100 Executive MBA Rankings" annually released by Financial Times in the United Kingdom, overwhelmingly topping the nation's list for nine consecutive years. Korea University Business School ranked first for 13th consecutive years in the 'Hankyung Business Ranking evaluated by Human Resources Managers at Korea's 300 Most Influential Companies,' and is the No.1 Producer of Successful CPA Candidates for 5th consecutive years.

Together with the world's leading business schools, we will faithfully fulfill the mission of the Business School to create new knowledge of business administration and nurture creative and altruistic leaders that our society needs. Thank you.
Johngseok Bae, Dean
Korea University Business School