Executive Education
Executive Education
The Executive Education Center was established for the growth and development of individuals and organizations through the design of innovative programs of highly qualified faculty members at KUBS with a long history and tradition.
We operate a program to develop the essential abilities that the CEO or executive must possess in a rapidly changing global business environment.
Each year, numerous CEOs, executives, and companies choose a program at KUBS's Executive Education Center.
Executive Education Center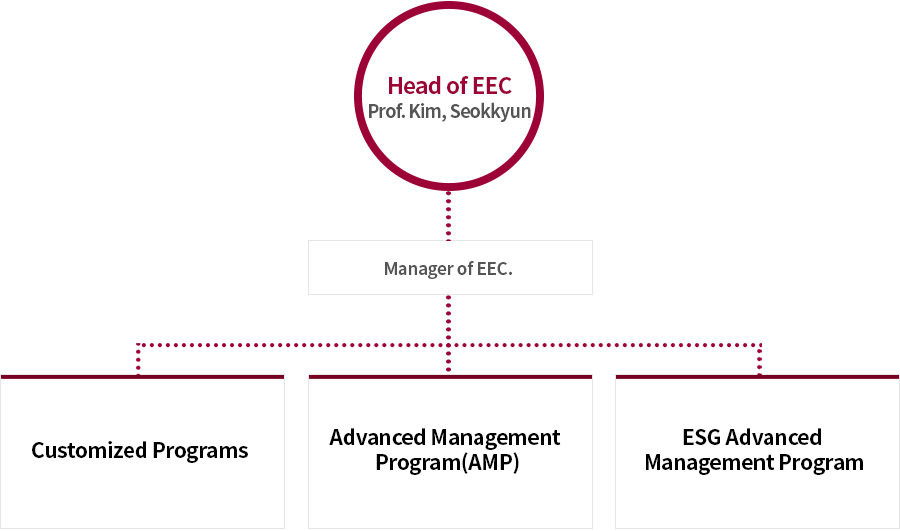 Advanced Management Program
6 month course (Spring semester: March, Fall semester: September)
Once a week, Monday evenings(PM 6:30~9:30)
Programs for Corporate CEO and executives, administrative or judicial second-level civil servant or higher, general, or other person with equivalent qualifications
Contact us : 02-3290-1695
Providing a curriculum tailored to the needs of the company and contributing to the achievement of the vision of the client company
Excellent lectures by faculty members who have the best research achievements in the domestic business education
An educational method that draws out collective intelligence through practical lectures focused on case studies and the active participation of students
The best educational environment that can increase the concentration of lectures and facilitate smooth group discussions
Contact us : 02-3290-2707
The latest business & management core lectures on the campus of Korea University Business School
Planning a program for visiting large Korean companies
Providing an opportunity to see practical business in Korea
Application for companies and groups is possible
Contact us : 02-3290-2709