News
KUBS News
[2021 Startup Station Lecture series #5] 'Global corporations are focusing on ESG-Innovation' PNP Se
2021.10.05 Views 184 국제실
[2021 Startup Station Lecture series #5] 'Global corporations are focusing on ESG-Innovation' PNP Seoul office CEO Song Myeong Soo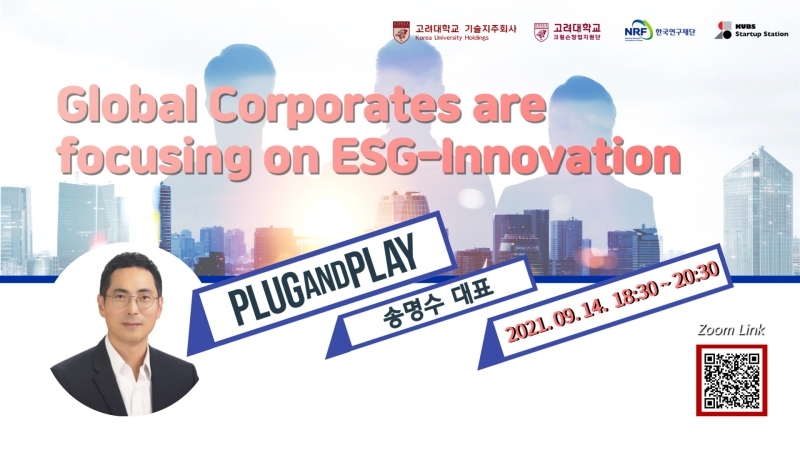 The 5th special lecture of the 2021 Lecture series hosted by KUBS(Dean=Bae Johngseok) Startup Station(Director = Hojung Shin) was held on September 14th(Tue). The Lecture series is part of the Entrepreneurship Academy program of the Seung Myeong-Ho Center for Entrepreneurship Education (Director=Dongseop Lee), an education institution within the Startup Station. Lectures are given by startup mentors who are working in the field. PNP Seoul office CEO Song Myeong Soo gave an online lecture, due to COVID-19, on 'Global corporations are focusing on ESG-Innovation.'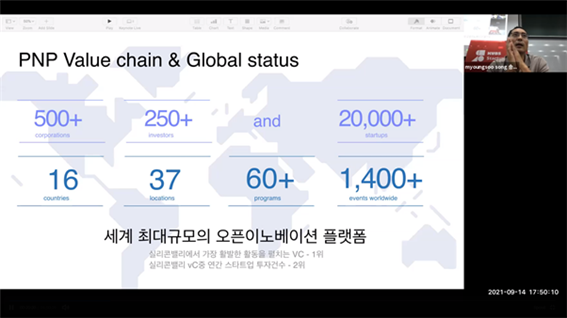 PNP is one of the world's largest investing organizations that foster new startups by supporting their finances and resources. It introduces around 520 starts to global corporations and venture capitals and acts as an intermediary or investor by annually attracting an average of 250 investments or directly investing. Also, PNP functions as an open innovation platform that uses startup/educational institutes/outside institutions and other resources for corporate innovation. It boosts investment and collaborative activities among companies. PNP has shown its strengths in FinTech such as Paypal and LendingClup, among the 17 sectors and has contributed to the making of 22 unicorn enterprises.
Mr. Song emphasized 'positioning' based on the investment patterns of corporations. Mr. Song gave various examples to state that "positioning based on your strengths, efficient resource management and knowledge of what clients want can lead to new findings." He introduced a case where MONARCH, the first firm to produce 100% electricity running tractors, received investments from Walmart. Mr. Song said "it might seem peculiar but it is understandable if you knew that Walmart has been interested in farming business and farming," and said that one must be interested in the client's situation and demands.
Also, Mr. Song said that "it is important to meet good investors and partners," and encouraged the students to look globally rather than only domestically. He introduced investment programs and open innovations such as 'AEPW(Alliance to End Plastic Waste)' that invests in eco-friendly startups and 'Benz Startup Autobahn.' Lastly, Mr. Song hoped that the students "recognize the importance of ESG innovation and positioning" and concluded the lecture after a Q&A session.
Editor | Jung Sang Bong (College of Political Science and Economics, Political Science & International Relations '17)