News
KUBS News
2021 2nd KUBS DT DAY completed
The 2nd KUBS DT Day 2021, hosted by Korea University Business School (Dean = Johngseok Bae) and organized by Center for Digital Transformation & Business (hereafter CDTB), was held on October 15 (Fri). KUBS DT Day, which was held as part of the National Research Foundation's University Innovation Support Project, was conducted through real-time online streaming service to increase participation of various experts, industry officials, and students who want to develop their digital capabilities. The event included panel discussion, an interim presentation of the Capstone project in which students from the Graduate School of Business Administration (MSBA) students are participating, the final presentation of the DTB Data Utilization Contest, introduction of CDTB by the Joint Center Director Kim Byungcho, and a general review and awards ceremony.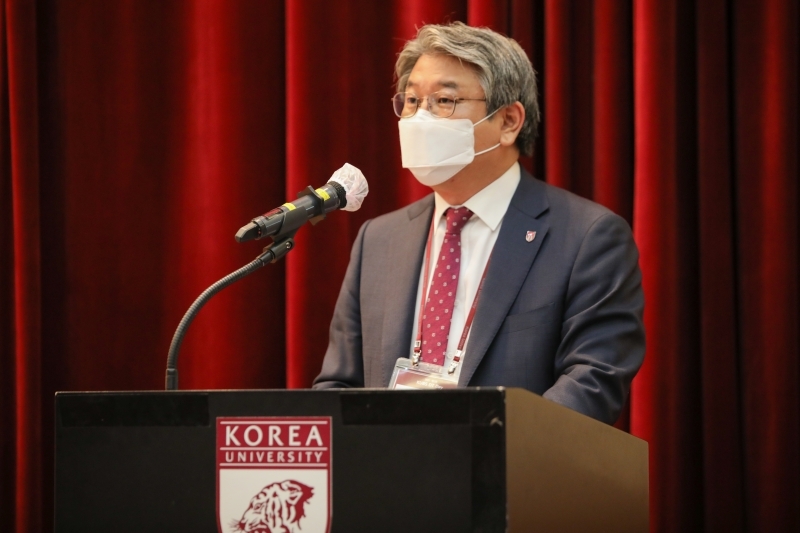 In his opening remarks, Dean Johngseok Bae of Business School explained the purpose of the event, "We will conduct a colloquium in the form of a panel discussion to help students understand digital transformation and promote cooperation with the industry," and added, ¨I hope it will be a meaningful event for the attendees."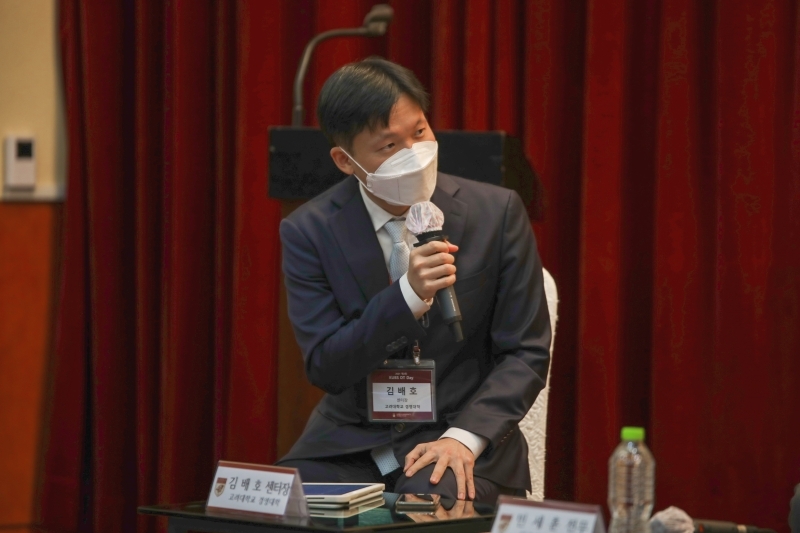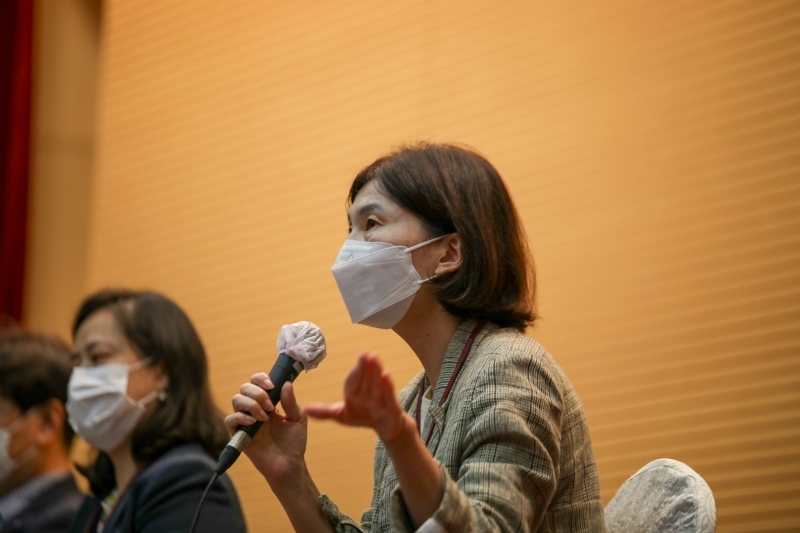 At the Colloquium following the opening remarks, Professor Baehoo Kim (CDTB co-director) held a panel discussion on the theme of 'Digital Leadership in Business' as a moderator, and vividly delivered how works in the real field get done, which is difficult to hear in classrooms. First, Jeong Ran-suk, head of the data strategy division at Lotte Members, talked about 'various changes and innovations attempted by Lotte Members'. "It has become very important to understand customer needs based on data," said Jeong, adding, "Currently, companies are carrying out their work according to the direction of DT innovation." In addition, she noted that "Companies are contemplating for investment and development in innovation trends using data."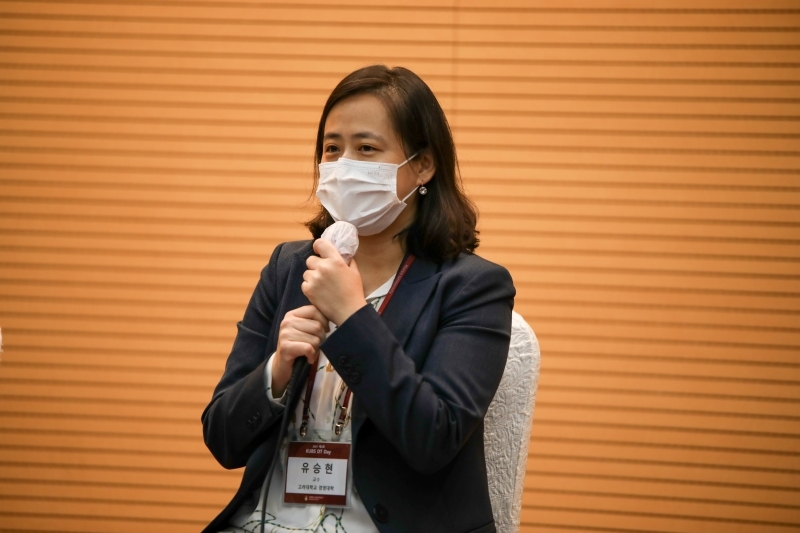 Next, Seung-hyeon Yoo, professor at Korea University School of Medicine, continued the discussion on 'research using data in the field of diabetes'. Professor Yoo said, "We are considering an optimized treatment model based on patient data." He said, "After the COVID-19 pandemic, patient data is collected based on Naver Cloud and customized treatment projects are underway." He also added, "In this rapidly changing era, people with the ability to embrace different values ​​will become the talents of the digital age."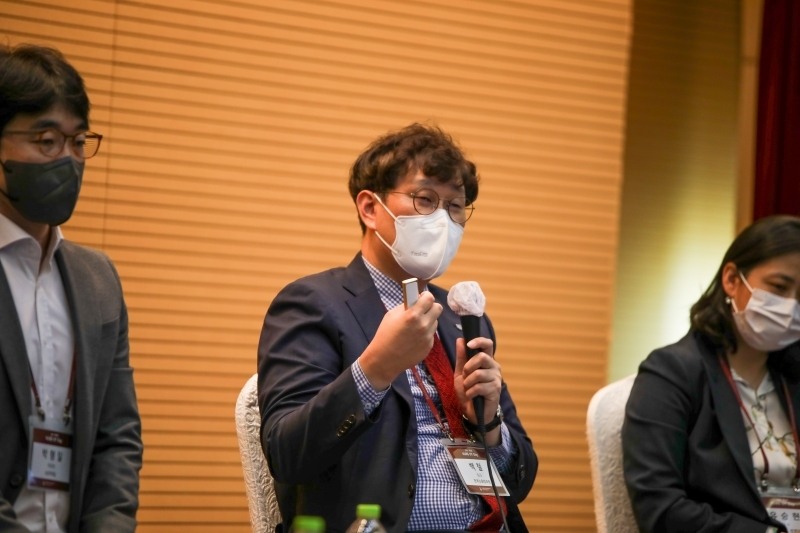 Thirdly, Baek Chul, head of data strategy team at the Korea Credit Information Service, spoke about 'digital leadership in line with the era of big data'. Team leader Baek Cheol said, "The data finance industry should move toward to data openness, data exchange, and my data system and its combination." He added, "You could become an expert in the field of finance data of you excavate your strengths keeping in mind the four fields to approach the field of data as aforementioned."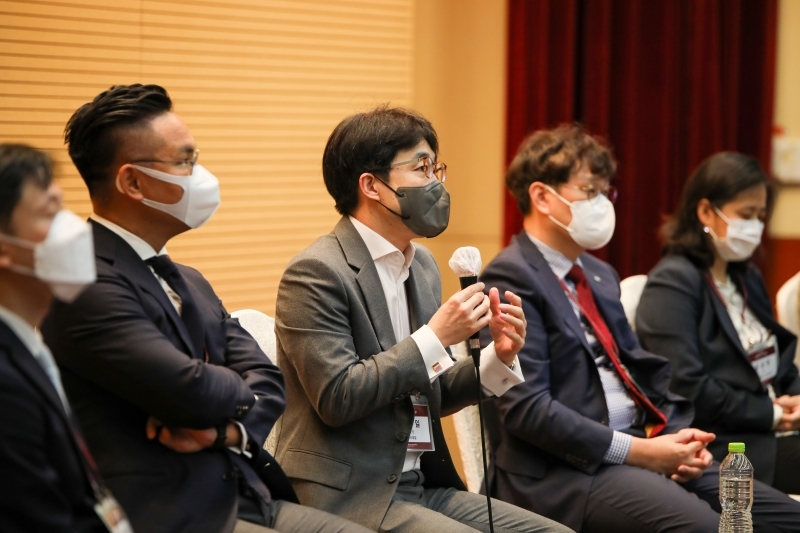 Next, Park Hyung-il, head of GS Retail's AI division, continued the discussion. "The latest topic of discussion at GS Retail is convergence DT," and he emphasized, "It is important to melt the know-how of long-time workers and new trends together in the field." In addition, he said, "I hope that there will be more opportunities to exchange opinions on this topic while educating DT in educational institutions."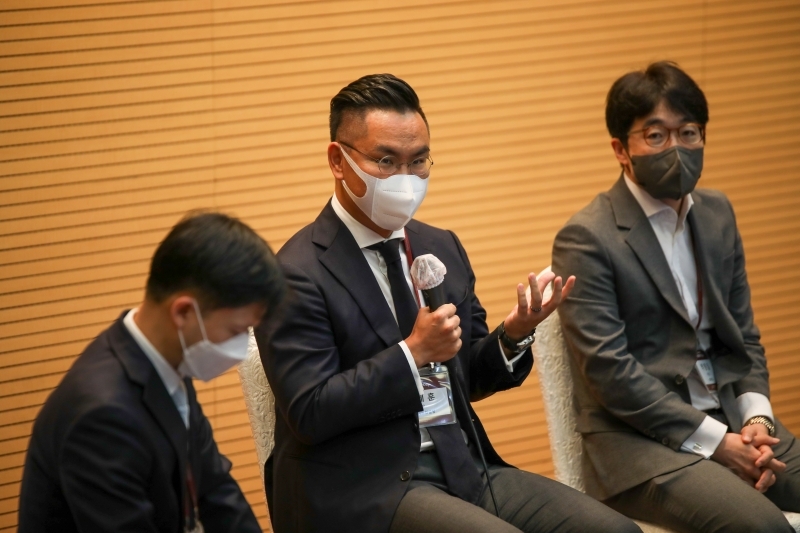 Lastly, Se-Hoon Min, Executive Vice President of Deloitte Consulting, talked about 'specific DT consulting cases and key sources of digital leadership'. Executive Vice President Min said, "We are moving to the stage of considering which business entities to link in order to develop the business" and "We need to also think about how our organization culture should change according to trend."
The afternoon session began with an interim presentation of the MSBA Capstone Project. The Capstone Project is the most important course in the MSBA program, and it is a project developing a business model with a partner institution instead of writing a graduation thesis. Advisors from partner organizations such as Lotte Members, Deloitte Consulting, GS Retail, and Korea Credit Information Service attended for feedback.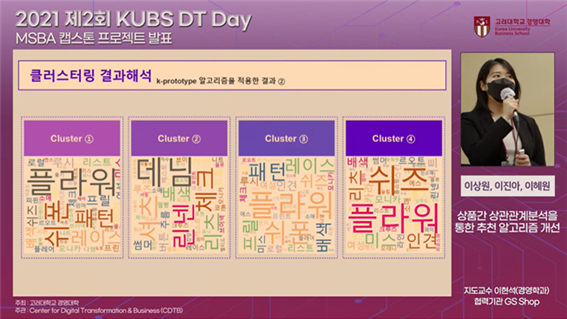 In this Capstone project, a total of seven teams participated with the following topics: △CLV LTV prediction model △Product recommendation using review data and text mining △Recommendation algorithm improvement through correlation analysis between products △Personalized financial product recommendation and credit evaluation △Change trajectory cluster of prediabetes indicators △ Villa house valuation using big data △ Credit evaluation modeling to distinguish between low-credit and medium-credit users. Each team identified a business problem and presented solutions and strategies using real data, and each presentation was followed by feedback from advisors after the presentation.
Next, the final presentation of the DTB data utilization contest was held. The data utilization contest, held for the second time, is a contest to discover creative business models and ideas using public data or data provided by companies.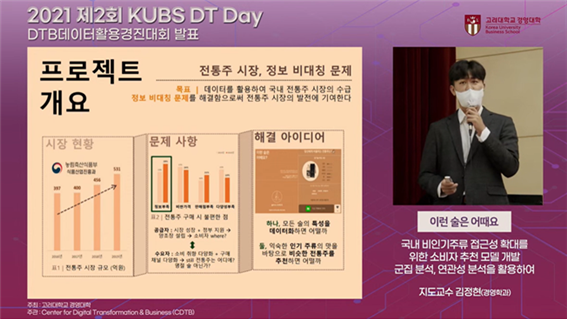 In this data utilization contest, a total of seven teams participated: △HANUL (psychological indicators and quantitative trading) △Subscriptions and likes (customized recommendations based on card consumption analysis) △How about these drinks (recommended models for non-popular alcoholic consumers in Korea) △Daily life (multiple sclerosis diagnosis and monitoring utilizing patient data and AI) △Food chart (prediction of food trends using deep learning) △KU (ku)reungi (model for resolving disparity in "Ttareungi") △SSakTrio (Placement of Untact Smart vending machine). After each team's presentation, the advisors' feedback and Q&A followed.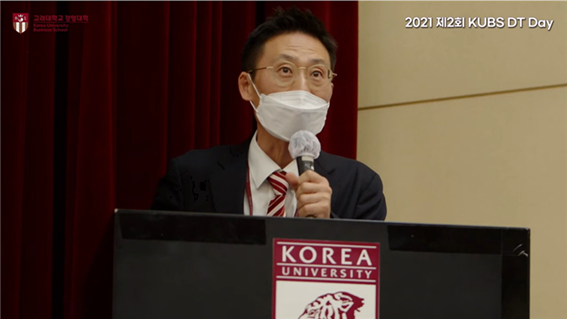 After the presentations, Professor Byung Choo Kim (co-director of CDTB) briefly introduced CDTB and shared his thoughts on the presentations. Director Kim encouraged the participants by saying, "It was impressive how the Capstone presenters intensively worked on the problems, not confining themselves to textbook solutions." Moreover, he commented on the Data Utilization Competition, mentioning that "All seven teams showed meaningful outcomes in business and came up with unique ideas by collaborating with students from various departments." He added, "It has been upgraded than before."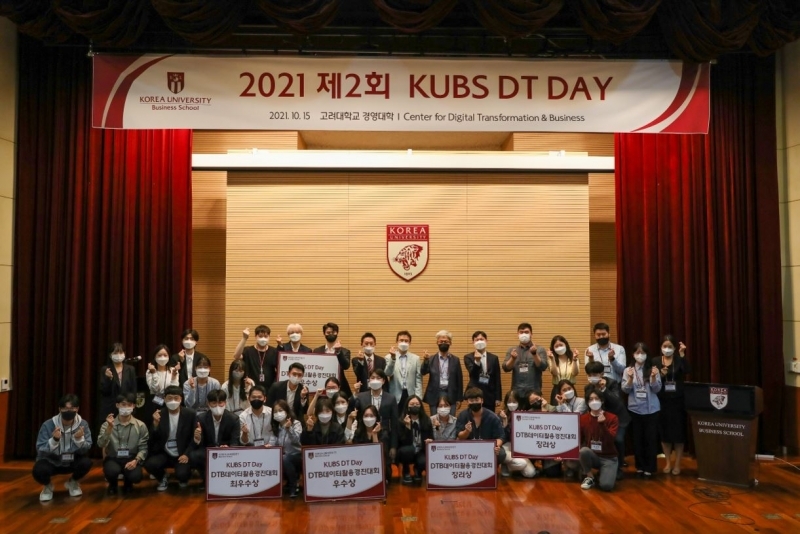 Finally, the winners of the Data Utilization Competition were announced. After fierce competition, 'Food Chart' (Hyejin Won from Department of Computer Science of Engineering and four others) and 'KU-reung-i' (Saeyeon Lim from Department of Sociology and four others) won the Participation Award. The Excellence Award went to 'NANUL' (Taewoon Han from Business School and two others) and 'Ssac-trio' (Yeseul Yoon from Business School MSBA and four others). Lastly, the team 'What About This Drink?' won the Grand Prize, and the event ended with the Vice President of CDTB, Professor JoonHo Hwang, awarding the winning teams.
Article | Sangbong Chung (College of Political Science and Economics, Department of PSIR 17), Yeonghee Chung (School of Media & Communication 20)
Photo | Serim Shin (College of Political Science and Economics, Department of Economics 18)