News
KUBS News
Korea University E-MBA, 27th in FT Ranking, and the No. 1 in Korea for the ninth consecutive year
2020.03.11 Views 492 홍보실
Korea University E-MBA, 27th in FT Ranking, and the No. 1 in Korea for the ninth consecutive year
The Financial Times of the U.K. announces the world's top 100 E-MBA rankings for 2019... △Columbia University (36th), △Cornell University (46th).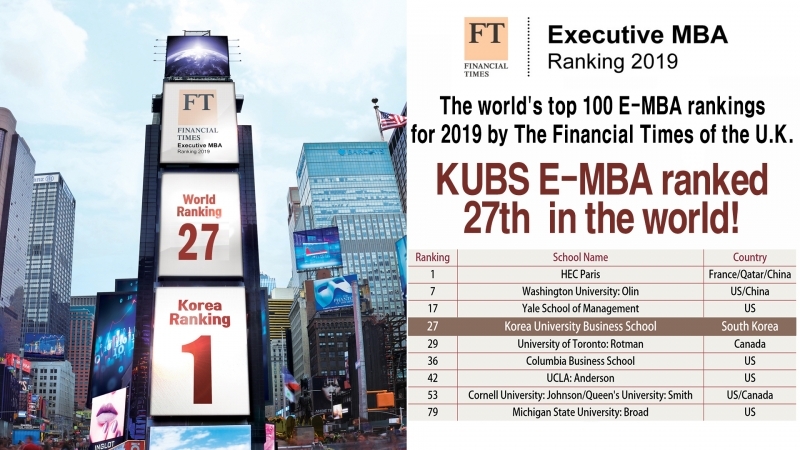 Korea University Business School (hereinbelow KUBS, Dean=Jae Wook Kim) Executive MBA Program (E-MBA) ranked 27th in the world in the list of the top 100 E-MBA rankings in the world, selected by the Financial Times of the U.K. According to an announcement by the FT on November 18, 2019, the KUBS E-MBA ranked No. 27 in the world this year after ranking No. 38 last year, ranking no. 1 for ninth consecutive year in Korea. In the latest three-year average, KUBS E-MBA ranked 28th (20th in 2017, 38th in 2018 and 27th in 2019) on average, proving that its work-oriented curriculum that strengthens expertise in each industry is at its highest level.
This is higher than the world's prestigious business school such as △Columbia Business School, 36th, △UCLA: Anderson, 42nd, and △Cornell University: Johnson, 46th. This year, △HEC Paris, 1st and △E-MBA program jointly run by Kellogg/HKUST Business School, 2nd were listed in the top two. Yonsei University ranked 34th among Korean universities after Korea University.
The FT rankings which is based on evaluation criteria such as annual salary increases and promotions, the ratio of professors' doctoral degrees and the index of internationalization, announce the rankings up to the top 100 universities in the world. In this year's evaluation, Korea University E-MBA received high marks in criteria such as "Salary increased," "Aims achievement," and "Faculty with Doctorates".
The reason why Korea University E-MBA rank is so special is because it has recorded the top rank only with its own program. While E-MBA courses at top ranked universities in Asia are often run by joint degree programs, Korea University E-MBA proves its competitive edge only by its own program.
→Relevant articles
[Veritas Alpha] EMBA Korea University 'Korea No. 1' in FT World Ranking .. 11 steps up to '27th'