News
KUBS News
Completion Ceremony of the 91st Advanced Management Program (AMP) Held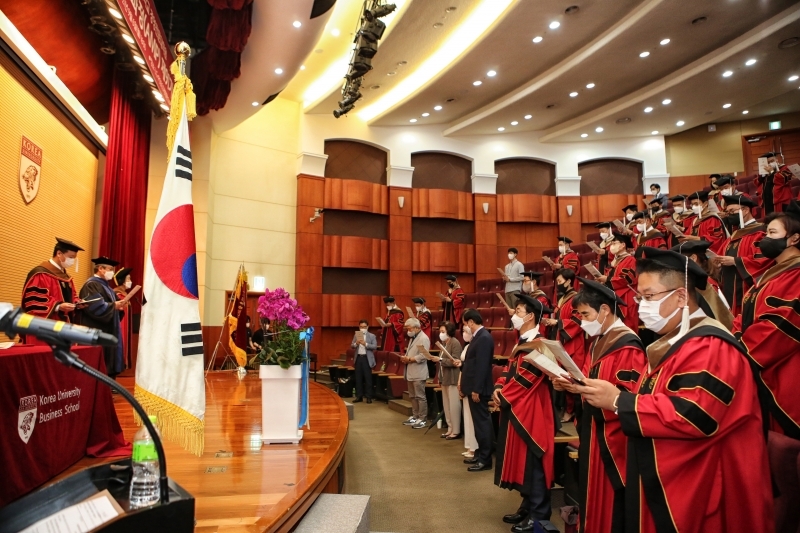 The 91st KUBS (Dean=Johngseok, Bae) Advanced Management Program (AMP) Ceremony was held at the SUPEX Hall of the LG-POSCO Building on Monday, September 6th. The event was held under strict social distancing guidelines. KUBS Dean Johngseok Bae, AMP Association President Moonchan Kim, AMP Chair Professor Bokyung Bae, and other AMP Alumni Association executives also attended the meeting.
The event began with the Dean's commencement speech. Dean Johngseok Bae said, "Congratulations to the students who have completed the AMP successfully even under the difficult situation involving the 4th wave of COVID-19." He further mentioned, "We wish you will become respectful alumni who can contribute to improving the life of humanity, especially in this era where we lack a decent leader."
Next, a congratulatory speech from AMP Association President Moonchan Kim followed. "You have now become our proud members of Korea University AMP Alumni Association," he said, "We will do our best to become the global Korea University AMP."
AMP Chair Professor Bokyung Bae mentioned that "Gaining knowledge about the constantly changing environment is the key ability to become a leader," and that "Your efforts to create and share new knowledge will become role model for other students in the future."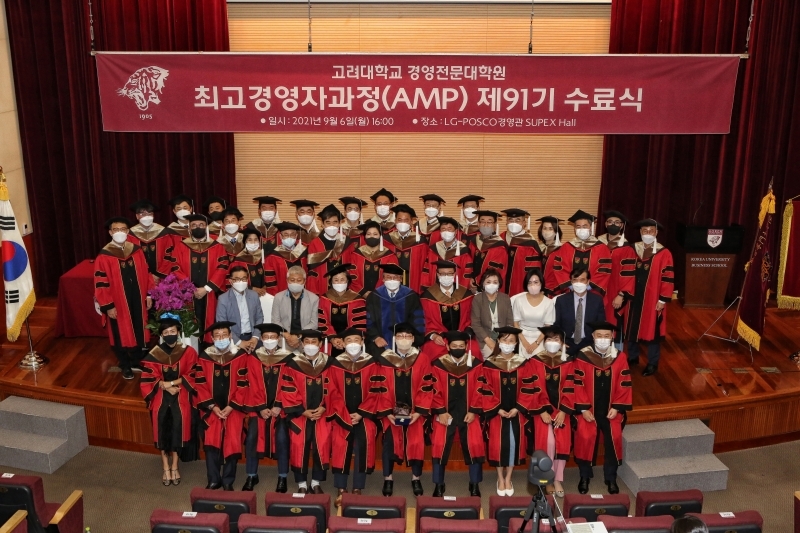 Subsequently, the valedictorian of 91st AMP class Gwangseok Kim gave a speech. Then, the certificate of completion, the plaque of honor, and the achievement plaque from the alumni association were given. Hwagu Kang received the certification of completion as a representative, and students were awarded in various categories, including the Dean's Award, the Achievement Award, and the Exemplary Award. The ceremony ended with a marimba play from the Pulse Percussion, a team with 133K Youtube subscribers, granting of the scholarly fund, singing the school song, throwing the graduation cap, and taking commemorative photos.
Meanwhile, Korea University AMP was founded in 1975 for the first time in Korea and has a 46-year-old tradition. The program has cultivated more than 4,800 CEO alumni and has been widely known for educating the newest business theories and providing human networks, which is essential for businesspersons working in various areas such as companies, the government, and state-owned enterprises.