News
KUBS News
Social Value and Sustainability Management Center x CDTB Collaborated Colloquium held... 'Business E
2021.11.29 Views 818 국제실
Social Value and Sustainability Management Center x CDTB Collaborated Colloquium held... 'Business Ethics in the Age of Artificial Intelligence – Corporationss Ethical Responsibility'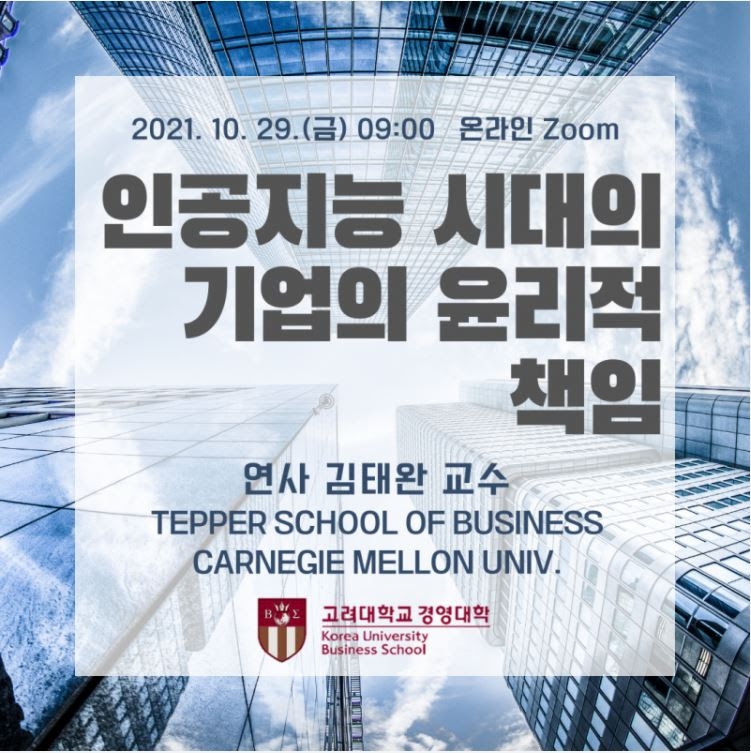 A Colloquium co-hosted by Korea University Business School (Dean = Johngseok Bae) Center for Digital Transformation & Business (Co-Director: Baeho Kim, Byeong Cho Kim, hereafter CDTB) and Center for Social Value and Sustainability (Centre Director: Jungbien Moon) was held online on Friday, October 29th. The CDTB Colloquium is a program to examine a company's digital transformation strategy, form a consensus among school members, and to secure cooperation between the industry and related external organizations. In this special lecture, Professor Tae-wan Kim of Carnegie Mellon University was invited as a speaker and covered the topic of 'Business Ethics in the Age of Artificial Intelligence – Corporations' Ethical Responsibility.' The event was held online due to Covid-19 with Professor Kim, who gave the lecture from the United States.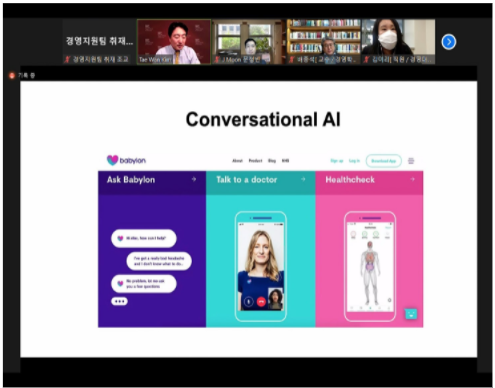 The lecture began with the greeting of Dean Johngseok Bae, who said, "I hope this will be an opportunity to understand the impact of companies on social values." Professor Kim emphasized, "Ethics is becoming a trend among companies to the point where we have to worry about using ethics strategically." Then he introduced several issues regarding artificial intelligence ethics saying, "Thinking about artificial intelligence is the same as thinking about who we, human beings, are."
Professor Kim continued his explanation of artificial intelligence ethics by dividing it into three main topics: △Value Alignment, △Algorithmic Fairness, and △XAI (Explainable Artificial Intelligence).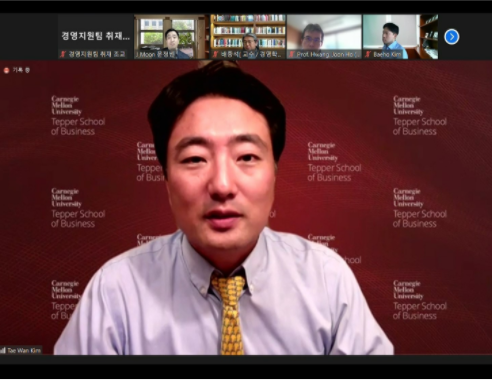 Regarding Value Alignment, Professor Kim mentioned examples of domestic and foreign chatbots such as 'Yiruda' and emphasized, "As artificial intelligence learns by imitating humans, the wrong sides of our society had been revealed in artificial intelligence." He also expressed, "Forming ethics is not possible with machine learning alone. A learning method based on logic and mathematics must be combined." Then, he introduced overseas cases such as when the hiring process was entrusted to AI, the hiring ratio of men increased, or when the sentencing standards suggested by AI were different for each race, etc. He explained that "The issue of algorithmic fairness has emerged as a major issue as AI started to reveal prejudices and discrimination due to the reflection of Society's hegemony and filter bubble." Lastly, Professor Kim said, "The current AI is high in accuracy, but there are many cases in which people do not accept it because of lack of explanation." He mentioned that many companies have begun to realize the need for XAI. Afterwards, the lecture ended with a brief question-and-answer session.
Meanwhile, Korea University Business School established CDTB in 2019 to lead the era of digital transformation in education and research area and to serve as a platform for industry-university-research connection. Various special lectures are being conducted.
Editor | Sang-bong Jeong(College of economics and politics 17)