News
KUBS News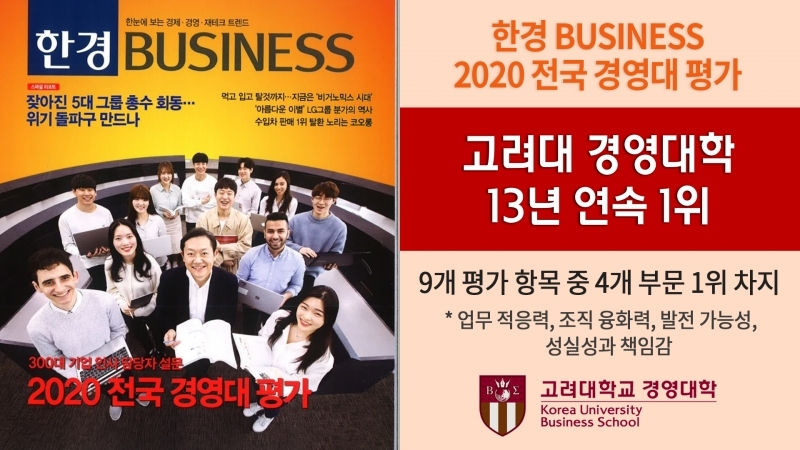 KUBS, Still on Top of HanKyung Business National Business School Ranking
KUBS (Dean Johngseok Bae) has earned the first place in '2020 National Business School Ranking – by Hankyung Business'. Consequently, KUBS has been on top of the ranking for thirteen consecutive years since 2008, securing its reputation as the best business school in South Korean higher education.
For this assessment, Hankyung conducted surveys with HR managers from 300 domestic companies. Fifty business schools – with more than 100 undergraduate admission quota– were subject to the assessment, and the survey result was analyzed by Global Research. The 9 survey items are as follows: △Fit between education and profession △Adaptability of profession △Organizational Fit △Growth potential △Creative Education △Internalization △Responsibility Education △Preferences from HR manager △Recommendation for higher education. The final score was calculated as a weighted average rank of each item.
KUBS has won 4 items out of 9 and took the first place in total rank; in △Adaptability of profession △Organizational fit △Growth potential △Responsibility Education. In particular, the score gaps with the second place in two items were remarkable, exceeding 150 score gaps in Organizational fit (score: 821) and Responsibility Education (score: 811).

(source=Hankyung Business)
Hankyung Business noted: "The key strengths of Korea University Business School are the best educational infrastructure and curriculum. KUBS has been continuously dedicating in their advantages and challenging for new values every year".
Dean Johngseok Bae addressed his vision through an interview with Hankyung Business, saying "The reason why KUBS could maintain its static position is because we have been pursuing a mutual goal between the school and students for 115 years. In 2020, which is a significant time of transformation, KUBS will strive to foster new leaders who can understand the root of business studies and develop creative goals".
This year, Hankyung Business School Ranking made its 13th assessment for Korean business schools. The core feature of Hankyung's assessment is that the ratings are made from the demand's perspective, the corporates who are looking for talents to hire. Therefore, Hankyung's aim is on evaluating how the graduates from business schools are actually performing as employees after finishing their MBA courses. Above all, Hankyung values leadership capabilities that can quickly adapt into new environments and motivate others as team-workers.