News
KUBS in the Media
[Hankyung Business] [2019 National Business School Ranking] &quotIn the Lead of Digital Transition i
2020.03.11 Views 161 홍보실
[Cover Story= 2019 National Business School Ranking by 300 HR Managers] -Jae Wook Kim, Dean of Korea University Business School...established three new tracks in its undergraduate program, including business analytics reflecting the current trend.
Jae Wook Kim, Dean of KUBS: Born in 1963. Graduated from KUBS in 1985. Doctor of Business Administration at the University of Illinois in 1994. Professor of KUBS in 1999. The Vice President for Admission at Korea University in 2015.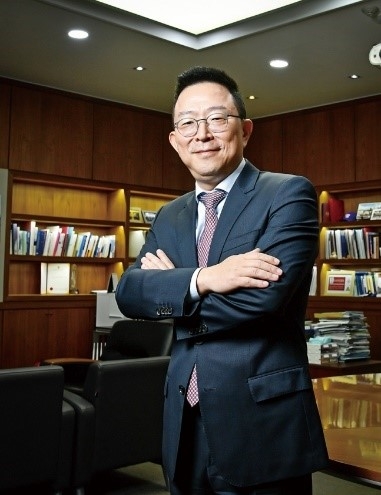 Dean of Korea University Business School in November 2018 (currently).
Korea University Business School (hereinbelow=KUBS) opened its doors to business administration for the first time in the history of Korean universities. KUBS is renowned as its deep history. In the "National Business School Evaluation" conducted by Hankyung Business since 2008, Korea University retained its position as the nation's top business school for 12 years. Moreover, it is also the single department that produced the largest number of CEOs among the nation's top 100 companies in 2019.
Jae Wook Kim, who has led KUBS since last year, has improved the competitiveness of KUBS by changing its education curriculum and initiating the digital transformation. Next year, he is aslo planning to establish a control tower for digital transformation of business education
"We have been constantly thinking about the change in business education and the future," he said. "Our educational goal is to help students develop the capability to live up to the changes of the times."
-Number one for 12 years. What is Korea University's competitive edge?
"We've been constantly thinking about providing the best in education and one of the many conclusions we've come to is 'enhancement of research.' We've been making human-centric investments to strengthen our research capabilities. As a result, there are 79 full-time professors at KUBS, the nation's largest. When forming faculty there is no leaning towards which school one is from, and professors who graduated KUBS constitute only about 40%.
The rest 60% is composed of scholars who have earned Ph.D. degrees from Harvard, Wharton School, Stanford University, and MIT and have worked as professors at the world's leading universities. There was also a hiring of professors in March this year, but only one graduate from Korea University was selected. The philosophy of human resources is 'excellence'. If there's someone more excellent, we do not give advantage to the 'pure blood', one from KUBS."
-I heard you were also active in investing in hardware.
"To change software, we had to fix the hardware at the same time. KUBS is the no. 1 college to invest in buildings in the history of Korea University. In particular, the faculty spent nine days in the U.S. with the design company and the construction company to complete LG-POSCO Building. Benchmarking the advanced U.S. Business Schools, we learned what kind of space is needed for business education. I thought we had to transform the hardware to change the software because the way professors teach and the way students think change in accordance with spatial layout."
-It's been a year since you became the Dean of KUBS. I wonder what has changed in the meantime.
"I've been working for a year to melt the changes of the times into the curriculum. I constantly contemplated the role of educational institutions to respond to changing trends and to educate students to lead the trend. Business administration has been focused on functions such as finance, accounting and marketing. Of course, marketing expert or an accounting expert are needed, but I thought about how KUBS could educate students to create and share values as a member of society.
In 2019, we introduced the Business Analytics curriculum to the undergraduate department, and from 2020, three new curriculums such as introduced 'Social Value and Sustainable Management Curriculum' and 'Enterprise Spirit and Innovation of Entrepreneurs' will be introduced. The foundation of this curriculum track is 'micro-degree'. In this curriculum, we plan to systemize with other departments as well as courses offered by business school and recognize them as majors if students take more than a certain number of courses. The completion of the curriculum will be proven in the graduation certificate. We will first open three new tracks, open more curriculums that combine specific expertise with business, including future entertainment management and healthcare management."
- In the interview last year, you promised to make KUBS into a demand-driven educational institution.
"With changes in the curriculum, we have studied how school education can further strengthen the relationship between society and industry. Educational institutions must produce the human resources that can enrich society. We've prepared how to understand, study, and educate the industry-wide 'digital transformation' in business education.
To establish a new business education platform, Korea University will establish 'Center for Digital Transformation & Business (tentative)' within next year. In short, the center will serve as a 'control tower' for digital transformation of educational institutions. New curriculums such as 'Business Analytics' is also a continuation of the digital transformation of business education.
We are also working with companies that respond to social changes. Recently, SK Group, which has emphasized the sharing of corporate social values, has made an investment, and we are introducing corporate social roles and social value creation into our curriculum. I think business education should not only help raise outstanding individuals, but also provide how individuals should live as members of society."
-Start-ups from the KUBS Startup Station are making more and more prominent results.
"It's been about three and a half years since the start of the KUBS Startup Station, and the value of the graduate company is estimated at 41 billion won. We continue to provide space support and consulting for start-ups, as well as direct matching with investors. 146 investors attended this year's CHOO CHOO DAY in November."
- Studies show that entrepreneurship is declining in society. How's the atmosphere in the school?
"The number of people applying to move into the Startup Station is increasing exponentially. We select 12 teams a year. While only 10 team applied in 2016, about 40 teams are applying now. Due to space constraints, the selected teams are being incubated first, but we are also giving support to those who are eliminated. While we didn't have as many applicants as we wanted at first, now teams are divided into major and minor league, which means the number of applicants and their capabilities are growing."
-What kind of support for student startups from the government or the company is needed?
"Continuous investment for startup education and support is important. The government is providing support in its own way, but there is a lack of practical support in the training field for startups. Government-level support for youth startups is largely focused on urban renewal or very simple as opening a store. But I think more investment in new ideas that can change the world is essential.
In particular, Seongbuk-gu is already well equipped with research and education clusters, as there are many universities including Korea University and KAIST Business School. Near Seongbuk-gu, more universities are concentrated in Dongdaemun-gu, Seongdong-gu, etc. I hope the government will use this cluster well to increase support for research-driven universities to create a startup boom."
- What support do you think is needed to develop business administration in Korea?
"I hope strategic investment will be made in research-oriented universities, not only in national universities but also in private universities. In the U.S., business schools also obtain STEM (Science, Technology, Engineering, and Mathematics) certification. Business administration is in the social science field, but human resources are essential to integrate other studies.
However, with tuition freeze, private universities in Korea are finding it difficult to recruit talented people for their faculty. Korean universities have recently begun to create AI graduate schools, and they are having a hard time bringing in a decent faculty member because they are unable to meet the high salaries of AI talent. If we freeze tuition, I think we should be accompanied by government support on a different level. I think the government should also share this concern about how to motivate talent in different fields and make research that can change the world."
-What are the challenges for KUBS?
"I think the value that universities should provide basically is value to their customers. Universities should not stay, but constantly think and develop to meet the needs of the times and society. In that sense, we started the digital transformation of KUBS, but in a way, I think it's too late. Starting next year, we will benchmark foreign universities with STEM certification. We will organize our business education and research to combine natural science, engineering, and medicine with business, and to help such convergence studies benefit the world."
Interview=Lee Hong-pyo, director of the news and editing department, Edit=Kim Young-eun, reporter, kye0218@hankyung, com.
[This article is from HankyungBusiness No. 1253 (2019.12.02. ~ 2019.12.08)]